WHAT WE DELIVER
At the end of your segmentation project we'll give you everything you need to put audiences at the heart of your strategy.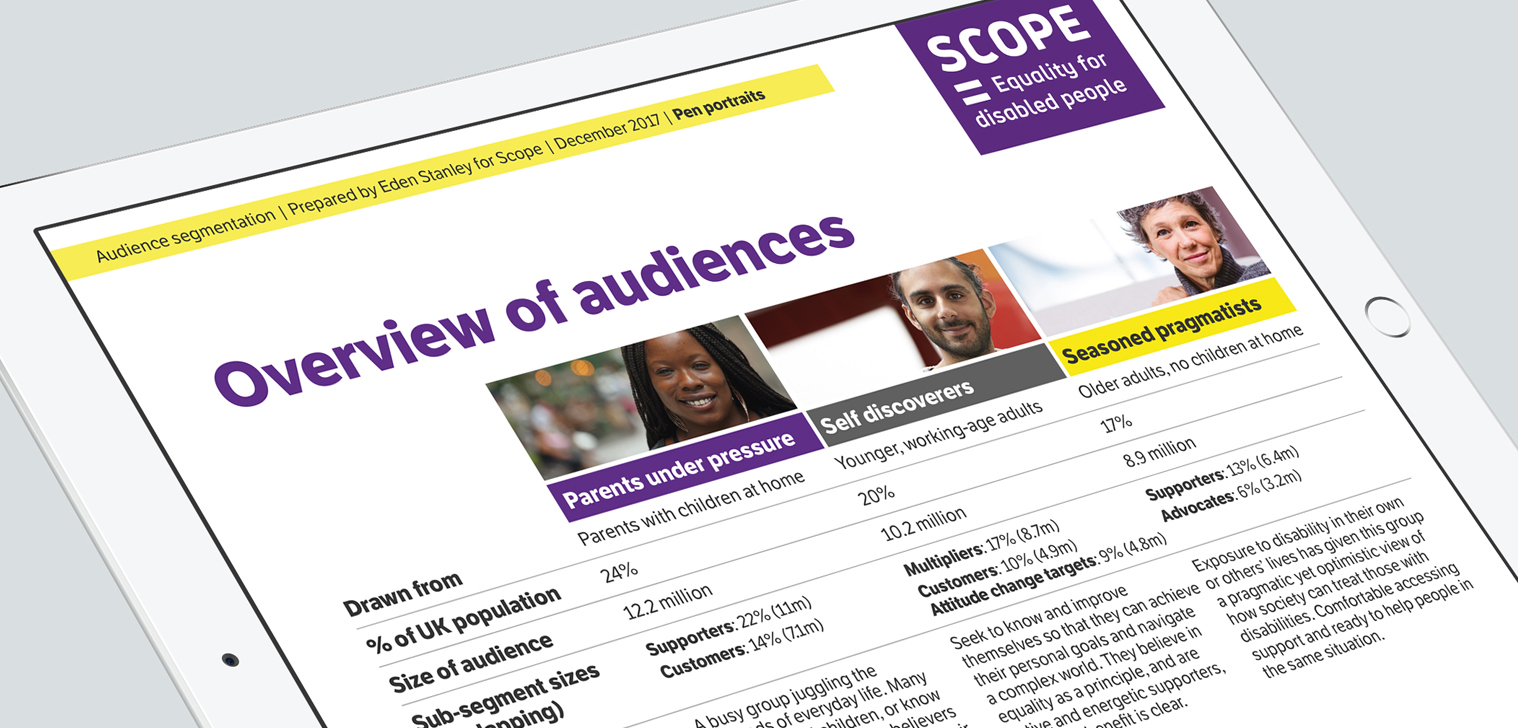 01
Audience profiles/pen portraits.
A report describing each of your audience segments, with thoughtfully crafted narrative and infographics. Beautifully designed in your branding, your report will combine summary descriptions with detailed content, so you can dive in as deep as you like. If you want to go to town, we can also produce posters, pocketbooks, or films – anything to bring your segmentation to life and communicate it to colleagues and partners.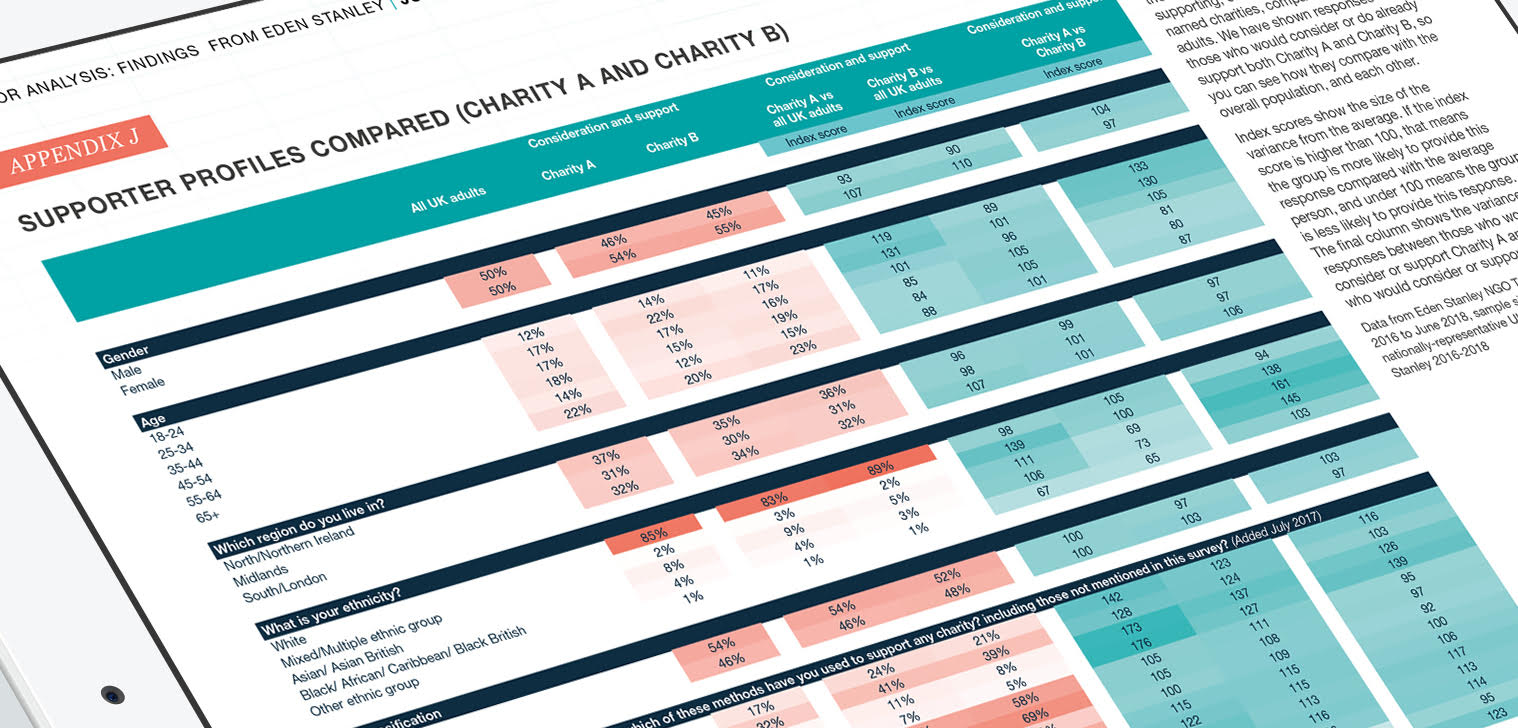 02
Full data tables.
You might prefer poring over data in spreadsheets to reading audience profiles, so we'll also provide comprehensive data tables that include every data point in the segmentation, organised by topic and colour coded to make them easy to interpret. You'll find data tables especially useful when you need to get into the detail, for example when you're media planning, or analysing attitudes to your brand or your cause.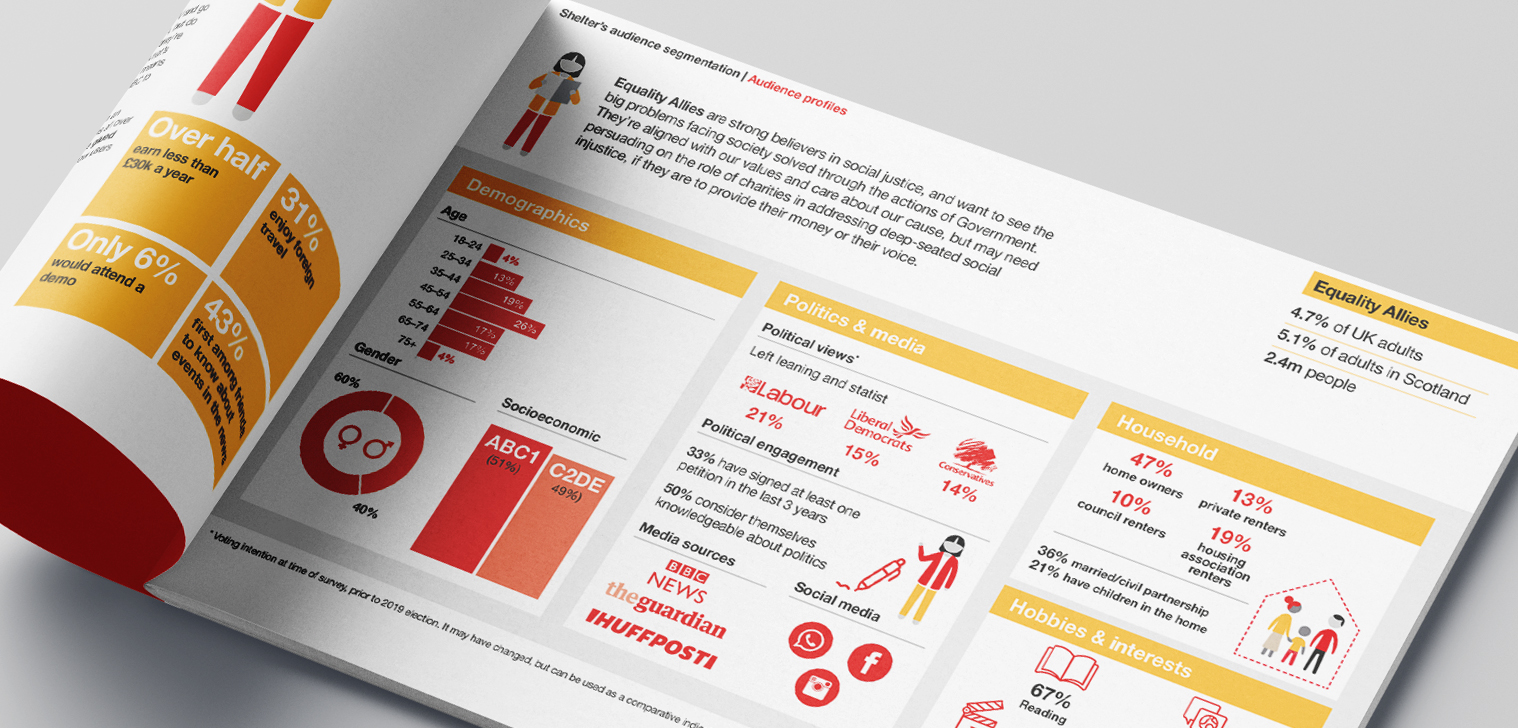 03
Project report.
Your project report will give context to your segmentation and help you explain it to others. It will detail why the segmentation was developed, describe the methodology, zoom in on key insights, and provide actionable recommendations on how to engage each audience. This might include insight on how to frame your messages, the motivations your audiences share in common, and where the growth opportunities are.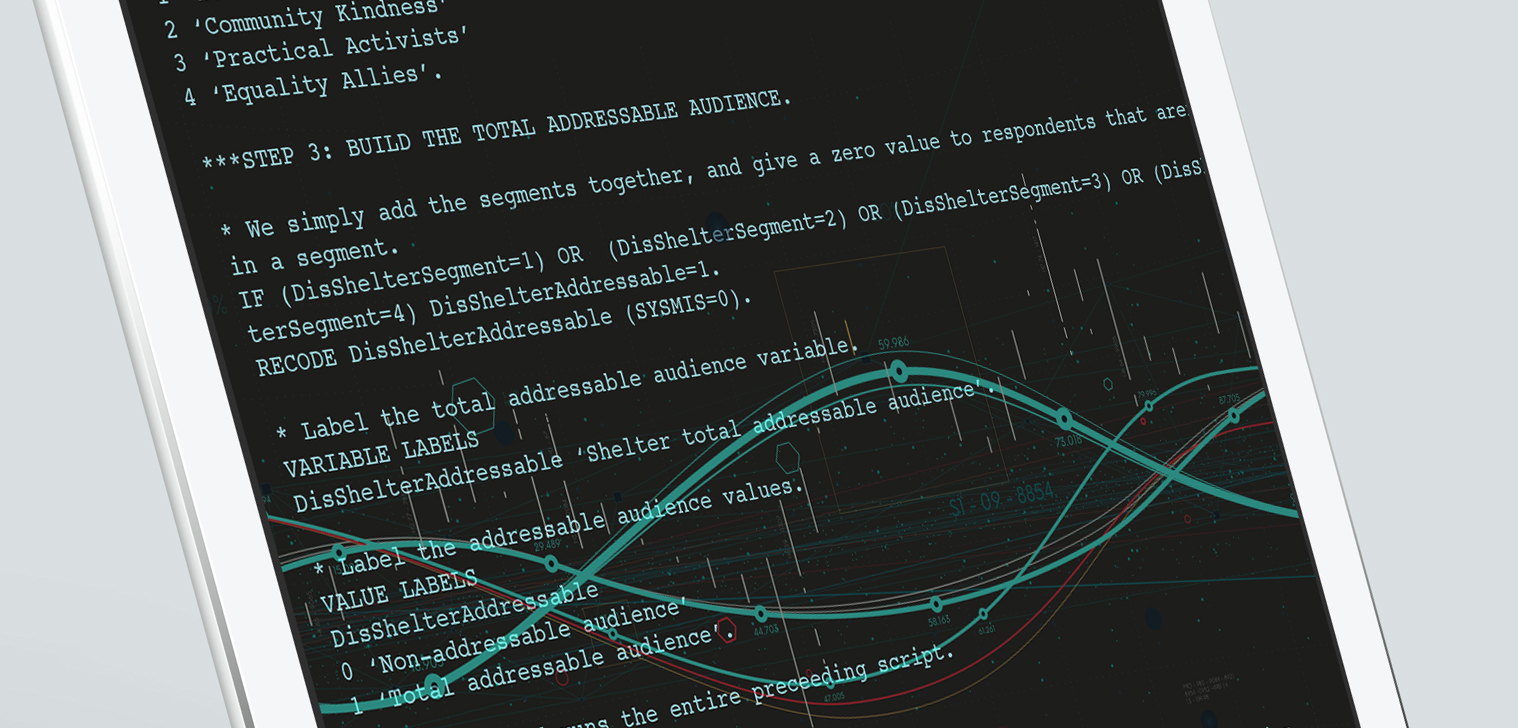 04
Golden questions and algorithm.
For your segmentation to be usable in the future, you will need the tools to recreate it again and again in new surveys, with either the external 'market', or the people on your own database. To enable this, we'll give you a simplified algorithm and the 'golden' questions (the smallest possible number of questions) required to produce the segmentation. Sound complicated? It's not, we promise, and we'll explain everything.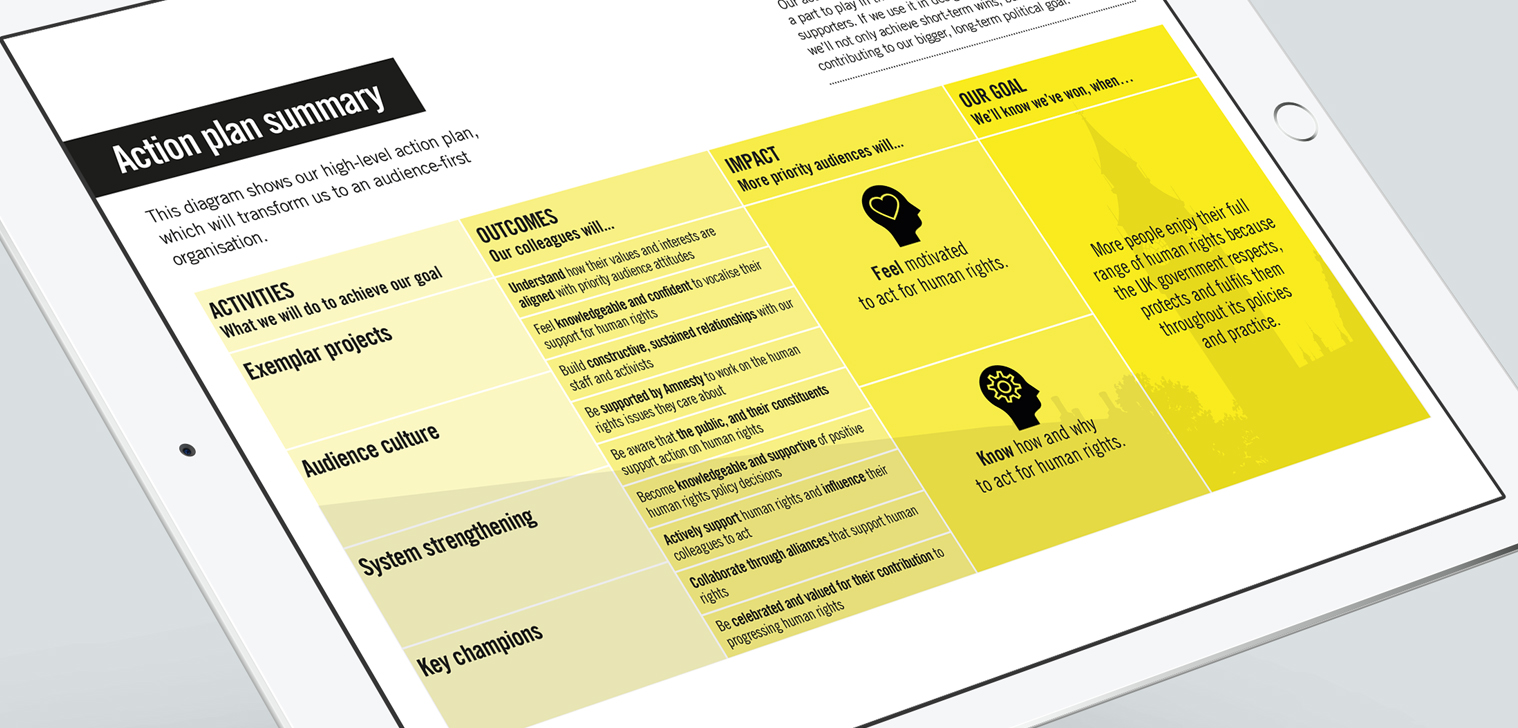 05
Embedding your segmentation.
Becoming audience centred often means finding new ways of working, designing new customer journeys, and redeveloping products, services and messages. Most major non-profits are on this journey right now and it's one best taken step by step. Your segmentation project will wrap up with a working meeting to assess the changes you need to make. Or see our strategy services if you need something more comprehensive.
HOW WE WORK
Our data standards and ethics.
Eden Stanley is registered with the Information Commissioner's Office and is a member of the Market Research Society. We are fully compliant with data protection regulations, and bound by industry best practices, both in letter and spirit.
Most of our audience segmentation work is concerned with defining attitudinal and behavioural groups in the population, using anonymised data which we supply in aggregated form to our clients who have no means of identifying individuals.
When we do work with personal data, for example segmenting customer databases where anonymised data can't be provided, we will work within your GDPR-compliant data policies, and ensure that fully informed consent is in place, and that data subjects know how to withdraw that consent.
"Eden Stanley really got under the surface in understanding the attitudes and motivations of our audience. We would recommend them to others considering new ways of understanding their audience, market or consumers."
Greg Beales, Shelter
"Eden Stanley created a segmentation that shows people as people. Through Insight Labs we met these people giving us an in depth understanding them. This work has been integral on our journey to becoming customer-centred."
Ruth Tidy, Diabetes UK
CONTACT
Get in touch and let's talk about your next project.