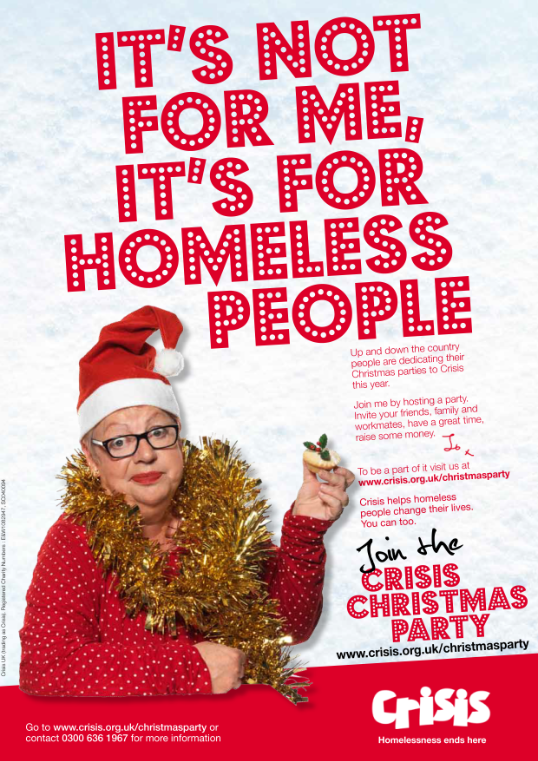 How do you create a new community fundraising product that will get noticed during the busy Christmas period, and build sustainable support over a number of years?
The challenge
Crisis wanted to raise £1 million over five years with a fundraising product that would cut through an incredibly crowded Christmas market. They also wanted to tell a bigger story about homelessness and the work Crisis does – not just at Christmas, but all year round.
The insight
Because Crisis's association with Christmas is so strong, it was clear they could occupy a space in a crowded market in a way few other charities could. To do it, Crisis would need a product that was easy to participate in, was scalable, and that would provide an opportunity to talk to captive audiences about their year-round work with homeless people. Above all, we wanted to help Crisis engage supporters in a way that wouldn't demand they do anything too complicated or out of the ordinary – so that take up would be as high as possible.
The solution
The Crisis Christmas Party. Across the nation, seasonal parties are being dedicated to Crisis and will include a small fundraising component with materials we developed — including a party guide for hosts, a special sweepstakes game and further information on Crisis's year-round work with education, training and employment projects. We developed the original party concept, identified audience segments to target, designed and implemented product testing through focus groups, and developed promotional materials to launch the concept nationwide. Finally, celebrity comedian Jo Brand was invited to serve as an ambassador for the campaign.
The results
The Crisis Christmas Party launched with a significant marketing push and media coverage. People around the country have signed up in droves to dedicate their Christmas parties to Crisis.